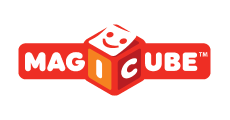 MAGICUBE
EARLY YEARS | PRESCHOOL | PRIMARY
Introducing the Magicube platform
These magnetic cubes are a major innovation in the junior construction category, allowing you to build easily in 3D. The unique value of
the cubes is that they attach on all 6 sides, thanks to the six magnets which always find the right polarity and attach.
The clips
Projects using iron-rubber clips to attach to the magnetic cubes have been developed to expand the play value and educational use.​